The 4x8' HO Layout
To begin i purchased a book called "101 Track Plans For Model Railroaders" by Linn H. Westcott, published by Kalmbach Books. The book gave me ideas as to what scale i needed and how to choose a track plan.
I wanted an HO track plan that was 4x8' in size. It had to have a double track to go around (for two operators) and some sidings. That really limited the track plans but i found one which sort of fit, #25 Mohawk Southern Ry.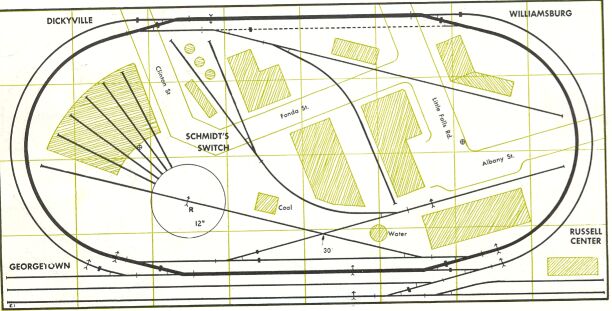 The track plan looked good but i wanted some mountain scenery, a river and some raised track. I got out my sketch pad and revised the plan.
Now it was time to go out and buy the track. Since i had Atlas track and switches from a previous layout, i went to the LHSs' and purchased cork road bed, switches ( the package turnout, wire, switch machine all #4s), controllers ( for two cab operation), 2 power packs and some more books; "The Complete Atlas Wiring Book" and "The Practical Guide to HO Model Railroading".
There was a total of 100' of track less the turnouts. I began by laying out the track on the 4x8 and drawing an outline of the track on the board. Then i removed all the track and layed out the cork roadbed on the outline using small nails. Relayed the track and it was done. Took two days.

I was working on the floor and now it was time for some legs. I used two bench horses at first and then realized it was too high for the kids so i cut 8 legs 15" high from 2x2s. When the kids were all played out on it i eventually put 2x2 legs to a height of 39".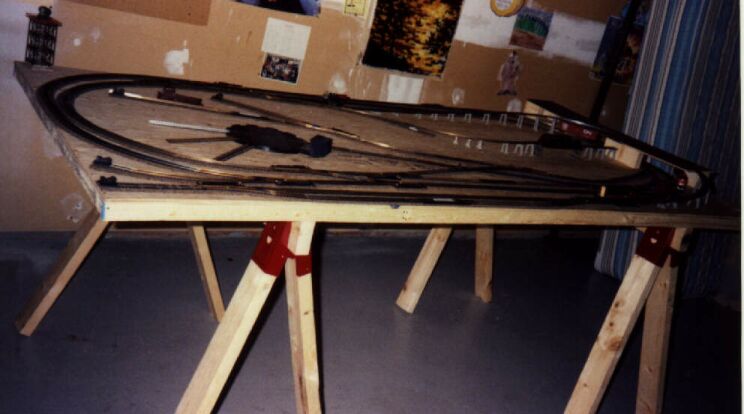 With the track layed and wired it was time to run some trains and set up a few buildings and things for the kids.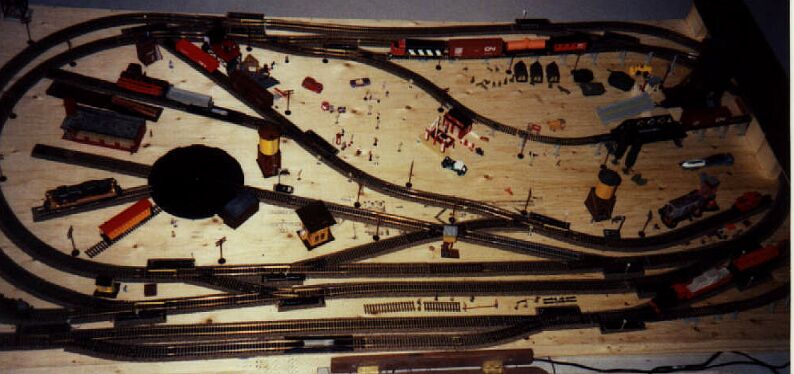 Scenery was the next step. I did not have all the equipment that most modelers have, no air brush, no compressor, no dremel, no collection of modeling tools and i did not want to spend a whole lot of money.
I had some colored marking pens and some paint and i preceded to draw on the board where i felt everything should go. I had most of the buildings built and i built the mountain using wire mesh and plaster. You can see in the picture below.